Re-endodontics
Smolyarchuk Elena Georgievna, dentist-therapist of the highest category, member of the StAR Endodontic Section, member of the International Endodontic Federation of the European Endodontic Society
Patient I., 22 years old.
Student.
Complaints.
At the initial appeal to the dental department of JSC "Medicine" - no complaints.
The purpose of the visit is a preventive examination before orthodontic treatment (occlusion correction).
Inspect.
There are no common diseases.
Dental history.
The patient reported that she does not regularly visit the dentist.
At the same time, he notes periodic aching pains in the lower jaw on the right.
From the side of the oral cavity.
Individual oral hygiene is unsatisfactory: abundant soft plaque in the cervical (peri-gingival) area and interdental spaces. There are carious cavities.
Orthopantomogram in the diagnostic image.
In two chewing teeth of the lower jaw on the right and one chewing tooth in the lower jaw on the left, peri-root cysts were found. The teeth were previously pulped, the canals were filled.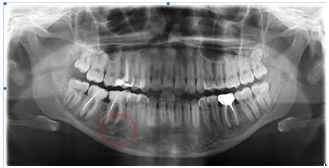 Treatment.
2 treatment options were agreed with the patient.
1. Re-fill the canals of these teeth, followed by their restoration with orthopedic crowns.
2. Extraction of teeth with subsequent implantation.
The patient was explained the advantages and disadvantages of each of the treatment plans, the possible risks, the percentage of success of retreatment.
As agreed with the patient, the following was performed:
retreatment of the canals of the chewing teeth on the right;
removal of the chewing tooth on the left.
After 6 months.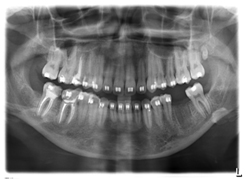 There are no complaints from the treated teeth. The patient is undergoing orthodontic treatment. The control image shows the restoration of bone tissue around the roots of the chewing teeth. The extraction socket is "ready" for implantation.
In a year.
No complaints. The patient continues orthodontic treatment.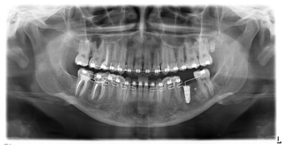 In the control picture:
bone tissue in the area of retreated teeth is completely restored. The implant is integrated ("engrafted");
the patient is directed to restore the retreated teeth and implant with crowns.