Vertebrologist appointment
Vertebrology is a branch of medicine that studies diseases of the spine and combines the directions of neurology, orthopedics, and neurosurgery. A specialist vertebrologist diagnoses and treats back and neck pain without major surgery. His field of activity includes the treatment of diseases such as:
curvature of the spine;
myositis;
radiculitis;
osteochondrosis;
arthrosis;
tense back muscles;
pathology of vertebral development, impaired mobility;
dislocations, hernias, protrusions, narrowing of the lumen of the spine;
tumors of various origins;
infections, etc.
This is not the whole list of what a spine surgery can handle.
In the modern center of vertebrology in the clinic of JSC «Medicina» are used such orthopedic methods of helping patients, such as:
massage;
physiotherapy;
manual therapy;
drug treatment;
computer traction of the spine.
In some cases, vertebroplasty is used in our clinic. This method is minimally invasive and consists of restoring, fixing, or strengthening the vertebrae and intervertebral discs by introducing a special surgical fusion. This procedure is carried out on an outpatient basis, only after the examination, collection of the necessary tests.
Recovery of patients after vertebroplasty lasts from several hours to 2-3 days. The doctor's recommendations will help you quickly return to a fulfilling life.
* Find out more information about prices by phone.
Indications for visiting a vertebrologist
The reasons for contacting a vertebrologist may be different, for example:
limitation of mobility;
violation of posture;
pressure drops;
crunch in the back;
headaches, dizziness;
pain in the heart and ribs;
intercostal neuralgia;
weakness, fatigue.
Even symptoms such as malfunctioning of the cardiovascular system, problematic bowel movements, and urination, can be a consequence of a spinal disorder.
Contraindications
Not in all cases medical manipulations can be performed with the spine. This is especially true for vertebroplasty. Contraindications may be as follows:
the vertebra is deformed by more than 70% of the norm;
inflammation and infection of the paravertebral tissues;
infections with fever;
exacerbation of chronic diseases;
the presence of diabetes mellitus;
poor blood clotting, tendency to bleeding;
damage to the central nervous system;
deformed vertebrae press on the spinal cord;
metastases in the tissues of the spine;
allergy to components of bone cement, etc.
Depending on your case, the doctor will give all the necessary recommendations. Inform about the characteristics of your body so that the treatment is safe.
Make an appointment with a vertebrologist at the clinic of Academician Roitberg «Medicina» by phone +7 (495) 775-73-60.
Doctors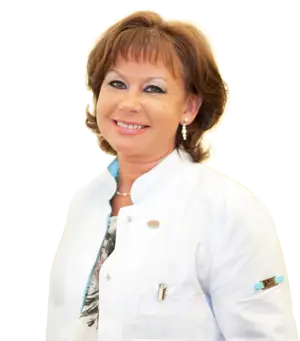 General practitioner
Experience 37 year
Board Certified General Practitioner (Highest Category), member of the Russian Scientific Medical Society of Internal Medicine
To make an appointment
Pricelist