Neurosurgery

Our patients receive comprehensive and honest information in response to all their questions according to the "Dialogue with a Patient" procedure adopted at the Clinic. Combining high-level diagnostics with high-technology equipment in the operating room allows a spinal surgeon to make the surgery as safe as possible and the recovery period painless and short. Foreign clinics "that guarantee everything" follow a typical motto of medical tourism "Got a vertebral column? You need surgery!"
The Center of Spinal Pathology is based on the principles of strategic prospects for the patient's "life quality" and not on the "roentgenogram after a high-technology surgery."
Is surgery necessary with this type of vertebral column deformation?
How can be half-steps of laser disc vaporization distinguished from nucleoplasty?
Are implants necessary or is it possible to do without them?
The Center of Spinal Pathology headed by Dr. A. N. Baklanov performs all types of surgical interventions on the vertebral column:
outpatient surgery (stay at the hospital for up to three hours): radiofrequency ablation in the patients with chronic spine pain; percutaneous lumbar discal subligamental hernia removal (discal hydroplasty (SpineJet™); vertebroplasty in the patients with uncomplicated stable compression fracture, osteoporosis, and hemangioma;
minimally invasive surgery in the patients with lumbar discal hernia, lateral vertebral canal stenosis with periradicular reconstruction of the lateral recess and application of anti-adhesive gel under peridural anesthesia or endotracheal general anesthesia. The patient is hospitalized for 24 hours, without any restrictions on his or her activity in the postoperative period;
microsurgical interventions in patients with hernias and stenoses in the cervical spine with posterior and (or) anterior dynamic and (or) static implants;
microsurgical lumbar vertebral canal decompression in patients with central stenosis;
transpedicular spine stabilization in case of displacement (spondylolisthesis) using PLIF, ALIF, TLIF, and XLIF;
reconstructive surgeries in patients with the trauma of the vertebral column with posterior and anterior approaches;
surgeries for spinal cord and vertebral column tumors;
posterior correcting traspediculo-corporeal screw spondylodesis (+SPO, PSO, and VCR) in patients with vertebral column deformations of different etiology at any age: posttraumatic kyphosis, Scheuermann-Mau disease, Bekhterev's disease, idiopathic, congenital, and neuromuscular scoliosis (spinal muscular atrophy, infantile cerebral palsy, and Duchenne's disease).
All surgeries are performed under neurophysiologic monitoring of the spinal cord conduction what ensures maximum safety of the patient's sensor and motor functions. Ultramodern implanted structures of new class of biocompatible materials are used, what allows not to restrict the patient's motor activity and not to wear an external body jacket during the postoperative period.
A patient may sit, stand up and walk on the next day after any of the surgeries;
The average hospitalization period is between three and five days;
Postoperative scheduled consultations;
Preventive medical examinations for spinal pathology.
Doctors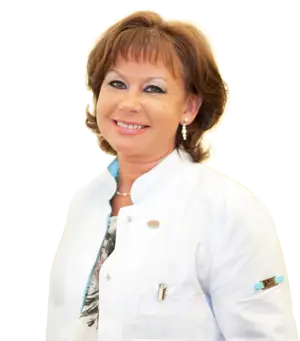 General practitioner
Experience 37 year
Board Certified General Practitioner (Highest Category), member of the Russian Scientific Medical Society of Internal Medicine
To make an appointment
Pricelist