Medical tourism
JSC "Medicine" (clinic of academician Roytberg) is a multidisciplinary medical center, including a clinic, a hospital, 24-hour ambulance and ultramodern oncological center Sofia
The first clinic in Russia accredited by international standards JCI (Joint Commission International).

Certification of Roszdravnadzor according to the system "Quality and safety of medical activity".

Examination and treatment in full compliance with Russian and international medical standards.
The clinic's consultants are academics and corresponding members of the Russian Academy of Sciences, professors and leading specialists in various fields of medicine from Russia and the most famous foreign experts.
For the high efficiency of treatment, we have achieved the continuity of the stages of treatment in the clinic and hospital. The curator coordinates the treatment prescribed by other specialists, and also takes part in the treatment of his patients in the hospital.
JSC "Medicine" (clinic of academician Roytberg) provides a full range of medical care in 66 medical areas.
Diagnostics.

Therapy and family medicine.

Pediatrics.

Dentistry

Outpatient and surgical gynecology.

Cardiology and cardiac surgery.

Neurology.

Otorhinolaryngology.

Ophthalmology and ophthalmosurgery.

Neurosurgery.

Urology, andrology and nephrology.

Endocrinology and Dietetics.

Traumatology and orthopedics.

Neurorehabilitation

Oncology (radionuclide diagnostics, radiation therapy, chemotherapy and surgical treatment).

Dermatology, cosmetology.

Rehabilitation and restorative medicine.

Clinical examination and prevention.

Ambulance and many others.
Cost of services
We provide our patients with the opportunity to take advantage of clinic discount programs.
Payment options
You can pay for medical services in a convenient way:
cash;

bank card

payment through the site both before and after making an appointment.
JSC "Medicine" (clinic of academician Roytberg) collaborates with leading insurance companies. If you are their client, then you can get medical services from us under the voluntary medical insurance policy (VMI).
You can also apply for a loan for examination and treatment at the clinic.
How to make an appointment with a specialist of JSC "Medicine" (clinic of academician Roytberg)
Appointment possible
by phone +7 (495) 995 00 33 (around the clock);
using the online form on the site;
Algorithm for contacting a medical organization for a foreign citizen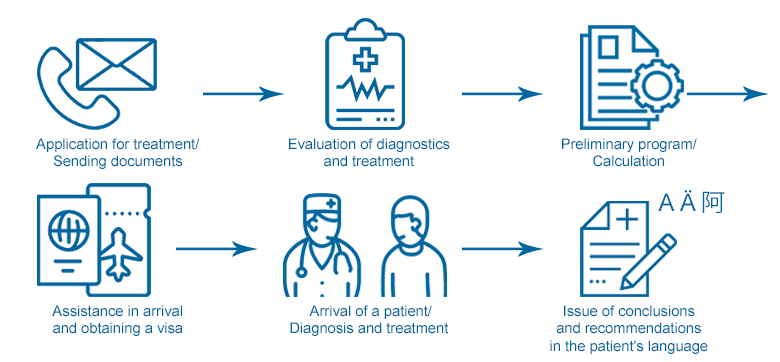 Contacts
Phone: +7 (495) 995 00 33 (around the clock)
Address: 125047, Moscow, 2nd Tverskaya-Yamskaya Lane, Building 10 (Mayakovskaya metro station)
Mariia Mikheeva
Medical tourism manager