Psychotherapy
Psychotherapy is one of the most significant directions for our Clinic. Thanks to the complex approach and use of up-to-date protocols, our physicians not only treat successfully various mental disorders but also help restore the emotional well-being of patients with chronic stress, apathy, irritability, anxiety and other frequent companions of the modern human being.
You should consider visiting a psychotherapist if you experience emotional burnout, if your routine has engulfed bright emotions and feeling of the joy of life, if you do not find strength to make significant decisions and notice that you ceased to control your life. Modern psychotherapeutic methods allow to eliminate emotional tension and bring back your comfort and balance.
Indications
There are many indications for visiting a psychotherapist is quite wide: from social maladaptation to sexual disorders (which often have a psychological nature).
Specialized directions in the work of our Psychotherapeutic Department are as follows:
chronic stress;
depression;
eating disorders (bulimia, anorexia);
chronic fatigue syndrome;
obsessions, phobias;
problems in establishing interpersonal contacts;
family conflicts;
psychosomatic disorders;
autistic spectrum disorders including those in adults;
sexual disorders;
neuroses;
addictions (alcohol, food, gaming).
Contraindications
There are no absolute contraindications for consulting a psychotherapist. In case of acute conditions (psychoses, alcohol delirium) it is advisable to arrange a home visit and not go to a clinic.
Symptoms
Symptoms of mental disorders are so diverse that they cannot be described in one short article. The asthenic syndrome manifested in the sensation of weakness, low working capacity, inability to perform daily tasks, mood swings and high sensitivity, is one of the most widespread symptoms which is typical of many conditions.
Besides that, the following symptoms may be the cause for consulting a specialist:
over-the-top aggression which is inadequate to a stimulus (when an individual blows up not in situations threatening his(her) life or safety but because of everyday, insignificant causes)
indifference when nothing of what used to make the patient happy works anymore to improve his or her mood;
sleep disorders, falling asleep problems
poor memory and inability to concentrate
frequent interpersonal conflicts
sensation of persisting emotional and physical fatigue
anxiety
hypochondria (excessive somatic concerns, self-diagnostics without consulting a doctor)
Diagnostics
The psychotherapists of our Clinic use clinical diagnostic methods (observation, conversation) at the first consultation. They assess the psycho-emotional condition of the patient, his(her) life situation, history; if necessary they conduct conversations with relatives, estimate the mental status of the patient.
Deeper level diagnostics implies the use of pathopsychologic investigations, i.e. methods which help to determine the complex personality picture and select the individual therapeutic regimen.
Besides that, our psychotherapists have at their disposal genetic investigation methods, neurotests and also instrumental diagnostics: neurophysiologic test-system, tomography, electroencephalography.
Advantages of seeking medical advice at JSC Meditsina (Academician Roytberg's Clinic)
When seeking medical advice at JSC Meditsina (Academician's Roytberg's Clinic) please be assured of complete confidentiality. Our institution operates the reliable personal data protection system and all private information of our patients is reliably protected and will not be disclosed.
We use comfortable therapeutic methods which proved their efficiency and allow to bring the patient carefully out of acute conditions, return their emotional well-being, adapt them to the society, teach them to understand and accept own emotional impulses. The instrumental and genetic investigation methods make it possible to perform a comprehensive and complex assessment of the patient's condition.
If necessary, the psychotherapists of our Clinic engage allied specialists: sexologists, endocrinologists, physiotherapists etc. to help treat the patient. The staff of our Clinic includes more than 300 specialists who regularly take advanced training courses, participate in conferences and job trainings including training programs in foreign countries. We engage academicians of the Russian Academy of Medical Sciences in treatment of our patients in complex cases. Instead of using routine approaches to treatment, our Doctors prefer custom-tailored techniques that allow them to return each of our patients to good quality life.
Doctors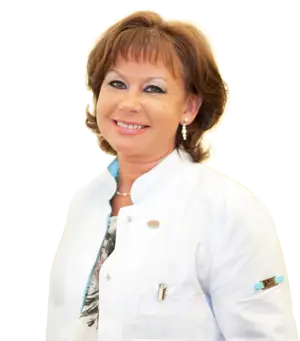 General practitioner
Experience 37 year
Board Certified General Practitioner (Highest Category), member of the Russian Scientific Medical Society of Internal Medicine
To make an appointment
Pricelist