Mammography
Mammography is a non-invasive and painless digital diagnostic method aimed at identifying breast pathologies. The procedure consists in scanning at a depth selection and thickness of the tomographic layer. When dense breast structures are used with mammography tomosynthesis. Also, to enhance the quality of images used intravenous least 20 mL of contrast medium. On average, the examination takes 60-90 minutes.
Mammography allows early recognition of the following diseases:
gynecomastia;
tumors;
various neoplasms;
precancerous changes;
cysts;
mastopathy;
fibroadenomas, etc.
Diagnostics is carried out in the department of radiology in the period from 6 to 12 days of the menstrual cycle (at any time if menopause has come). An examination is not necessary after breast augmentation surgery.
Cost
| Name | Price (RUB) |
| --- | --- |
| Mammography | 12760 |
| MRI mammography of one breast | 21900 |
| MR mammography of one breast with contrast | 38000 |
Indications and contraindications
Mammography is recommended for women after 35 years of age on an annual basis, after 40 years - every two years. In addition, for treatment to the doctor, there are other indications:
discomfort in the chest area;
feeling of pressure;
the appearance of pain syndrome;
detection of seals in the area of the mammary glands.
The procedure also has its contraindications. Regardless of which method of breast examination is used, it is contraindicated in the following cases:
pregnancy;
lactation;
the presence of implants with metal elements in the body;
injuries in the chest, bruises of the mammary glands.
If you experience any of the symptoms, do not postpone the examination and consult your doctor.
Diagnosis of breast diseases
Examination in our clinic is carried out on a mammography machine with a reduced radiation dose during scanning (up to 50%). Due to the high accuracy of examination, the doctor makes a diagnosis quickly, and then prescribes a treatment, or gives advice on the prevention of disease.
To sign up for mammography at JSC "Medicina" Clinic (Professor Roytberg Clinic), leave a request by phone +7 (495) 775-73-60.
Doctors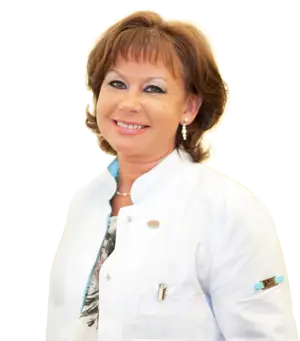 General practitioner
Experience 37 year
Board Certified General Practitioner (Highest Category), member of the Russian Scientific Medical Society of Internal Medicine
To make an appointment