Pediatrics
Children's health is being protected year round by top level pediatricians at JSC Meditsina Clinic (Academician Roytberg's Clinic). Our qualified pediatricians are ready to perform urgent diagnostics with the help of modern equipment, prescribe the required treatment and follow-up rehabilitation of he little patient during his or her recovery period. Additionally, the Clinic offers preventive vaccinations, scheduled preventive medical examinations, and issues medical documents including certificates for preschool, school, or the swimming pool.
Doctors
Diagnostics and treatment of children can be entrusted only to the best specialists. Pediatricians of our Clinic are Board Certified physicians of the highest category with extensive work experience and knowledge in pediatric medicine. We engage medical specialists - pediatric cardiologists, surgeons, ophthalmologists etc. in complex cases to make a more accurate diagnosis and determine the treatment tactics.
Pediatricians of JSC Meditsina Clinic:
Pediatric traumatologist-orthopaedist
Pediatric dental therapist
District pediatrician
Pediatric speech therapist
Pediatric orthodontist
Neonatologist
Pediatric psychologist
Pediatric immunologist-infectiologist
Pediatric neurologist
Pediatric gastroenterologist
Pediatric nephrologist
Pediatric dermatologist
Pediatric cardiorheumatologist
Pediatric allergologist
Pediatric massage
Comprehensive physical examination programs for children aged 1-15.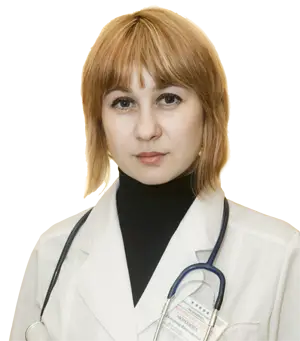 Pediatrician
Experience 20 year
Pediatrician, PhD (Medicine), member of the Union of Pediatricians of Russia
To make an appointment
Diagnostics
We have all necessary modern equipment and advanced technologies to produce a fast and accurate diagnosis. After the clinical examination of the child, the pediatrician may prescribe several laboratory tests and instrumental investigations including blood, urine, feces tests, nasopharyngeal smears, ultrasonic scanning, or an MRI scan. Diagnostic procedures are performed in a relaxed and cozy atmosphere, allowing the little patient to feel at easy and experience no unnecessary stress; such an approach creates the necessary trust in the doctor that the little patient will take along into the future.
We perform the following types of children's diagnostic procedures:
Ultrasonic scanning
MRI
Diaskintest
Streptatest
All types of tests
Treatment Ways and Methods at JSC Meditsina
Our pediatric health care professionals are always ready to provide comprehensive medical aid to your child and prescribe an effective and safe treatment regimen. JSC Meditsina Clinic (Academician Roytberg's Clinic) has all the resources to treat their little patients quickly and successfully, and let their parents get their peace of mind back. All problems can be solved but if the child developed such symptoms as a runny nose, cough, fever, a sore throat or abdominal pain, a headache, rash, diarrhea or constipation, apathy and slowness or is untypically agitated and cries constantly, you should seek medical attention of an experienced pediatrician without delay.