Exercise Therapy (ET)
Exercise Therapy (ET) is a special medical discipline using means of physical regimen (mainly, physical exercises) with the purpose of treatment and rehabilitation of patients and disabled persons, which also includes disease prevention.
ET is the most ancient of all known medical techniques the uniqueness of which consists in the fact that today the earliest methods of ET remain as popular as cutting-edge medical techniques. In particular, Kung Fu, a book written 4,500 years ago is the first treatise on ET known to modern medicine; the methods described in this book have been used by millions of people in the world for five millennia to improve their general health.
In addition to traditional methods of therapeutic physical training, JSC «Medicine» Clinic (clinic of academician Roytberg) uses also the advanced ET methods based on a combination of ET with other related approaches to treatment and rehabilitation and recent discoveries in kinesiology (study of movements). In particular, the Exarta method, proprioceptive neuromuscular facilitation (PNF-therapy), SMART-CORE exercise routines, soft techniques of manual therapy, postisometric relaxation, and fitness training sessions are used.
Indications for ET
ET is highly effective for treatment of diseases of the musculoskeletal system (ET for the patients with coxarthrosis, postural disorder, osteochondrosis, scoliosis, etc.), cardiovascular, respiratory, digestive tract diseases, postural disorders, during recovery after injuries and surgeries, during pregnancy and in the postpartum period.
Contraindications
There exist few contraindications for use of ET methods, and they are relative and temporary in most cases. These include high body temperature (fever) of any etiology, thromboses, embolism and high risk of these conditions, bleeding, intoxication, acute inflammatory and infectious diseases, cancer, severe psychiatric conditions, fresh injuries and fractures.
Advantages of Treatment at JSC «Medicine» (clinic of academician Roytberg) (Academician Roytberg's Clinic)
ET sessions at JSC «Medicine» Clinic (clinic of academician Roytberg) are designed individually in each case, taking into account all the factors of the patient's physical, emotional and energy condition.
Doctors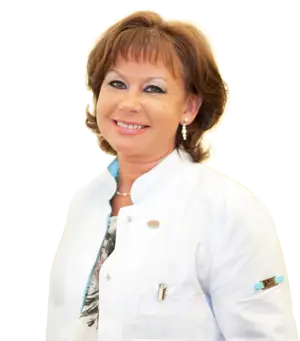 General practitioner
Experience 37 year
Board Certified General Practitioner (Highest Category), member of the Russian Scientific Medical Society of Internal Medicine
To make an appointment
Pricelist