Telemedicine service
Telemedicine is called one of the fastest-growing areas of healthcare. Medical consultations through special web services and mobile applications have been practiced in Russia for several years.
The answer to the question «What is telemedicine and why is it needed?» can be summarized as follows: «It is a medic aid that is always nearby». Telehealth makes it possible to receive consultative and preventive medical services remotely, saving time and effort.
Using telecommunication technologies, the following services can be provided:
real-time consultations;
telemonitoring - the ability to regularly monitor at a distance the vital signs of sick with chronic diseases (diabetes, cardiovascular disease) and with a high level of risk;
data storage. maintaining an electronic medical record online, including the results of all examinations;
organization of the consultation. allows you to attract high-level specialists who are at a considerable distance from the patient and each other.
What devices can be used for emergency video visit?
We have the right to decipher the ready-made analyzes, we can consult on the studies, advise additional studies, give general recommendations, but to make an accurate diagnosis and write a prescription is possible only with a personal examination and visit.
Besides, the doctor has the right to remotely adjust the previously prescribed course of treatment, give a second opinion (an alternative assessment), advice on disease prevention, and more.
To get specialist advice, without leaving home, you need to have an Internet connection. For this, a smartphone, tablet, laptop or laptop is suitable. To conduct video reception you will need a microphone and a camera - without these devices you will not be able to talk and find out all your questions.
You can, of course, conduct a telemedicine session via chat. However, it is much longer and not as effective as lively, albeit remote communication.
How to get telemedicine?
Interaction with the patient through the application is very similar to the usual offline reception. He chooses the preferred type of communication with the specialist of our clinic - chat, call, or video call. Then everything goes as part of the usual reception: complaints, medicinal history, and family history. If the patient has already been with a specific doctor and a diagnosis has been made, we ask for the results of the studies. At the end of the consultation, the specialist asks if the interlocutor has additional comments.
Proper preparation for the appointment will save the doctor's time and make the consultation more effective. It is recommended to formulate all your complaints in advance, attach the results of studies already carried out in the appendix, be prepared to answer about diet and treatment recently.
With the help of telehealth, it has become easier to get advice to those, who live too far from specialized medic institutions. Also, remote consultations reduce queues for specialists. For example, a doctor can remotely prescribe certain tests to a person so that he comes to a full examination already with a package of results.
To register to receive this service, you need to call us by phone. We will select the right specialist, as well as specify the convenient time for a telemedicine consultation.
Doctors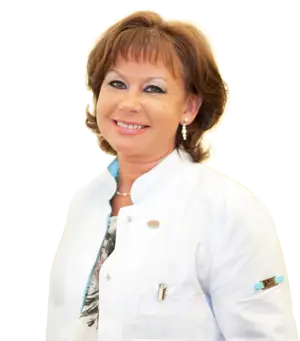 General practitioner
Experience 37 year
Board Certified General Practitioner (Highest Category), member of the Russian Scientific Medical Society of Internal Medicine
To make an appointment
Pricelist