Emergency Ambulance Service
Ambulance Service Telephone: (495) 229-00-03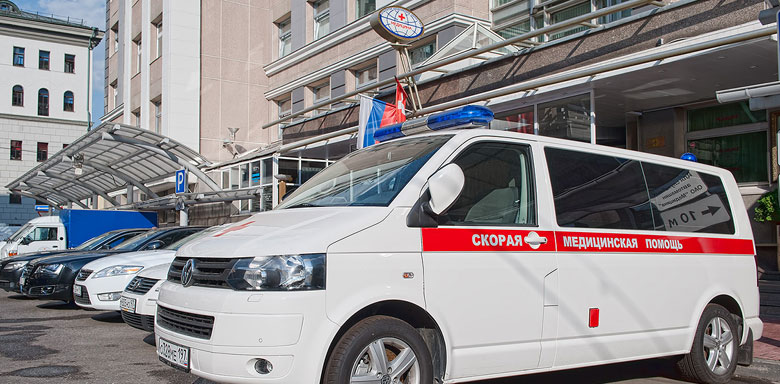 Our emergency medical service has been in professional operation for twenty-eight years and gave a start to Meditsina Clinic in 1990. Ours was the first commercial ambulance service in Moscow. The Clinic has grown into a large center offering comprehensive health services. In the meantime, we continue to provide assistance in emergency situations.
In our work, we are committed to high quality of rendering health services to children and adults.
Our ambulance crews consist of experienced physicians and paramedics. Ambulance vehicles are fitted with state-of-the-art equipment and comprehensive medical remedies for emergency initiation of treatment prior to hospital admission.
Mobile equipment includes an artificial lung ventilation apparatus, defibrillators, electrocardiographs, portable diagnostic equipment, etc. The list of drugs used in the course of commercial emergency medical services rendering is not limited as far as they are effective.
All emergency ambulance service vehicles are equipped in line with all the regulatory documents. The emergency call territory and the time required for rendering assistance to the patient are not limited and are fully aimed at achieving the final result, i.e. effectiveness of the treatment service.
Emergency Medical Aid and Other Services
urgent hospitalization to inpatient departments of commercial and municipal healthcare institutions;
arrangement of ambulance duty at public and private mass events;
patient transportation with a professional deployable medical team within Moscow and Moscow Region to hospitals of Moscow, back home, or to/from the airport.
Medical transportation of patients is performed using modern vehicles fitted with the equipment for monitoring the key functional parameters of the patient's vital organs and systems. To preclude discomfort during transportation, the vehicles are equipped with full stabilization devices for the patient. A reliable connection between the dispatching center, the patient and the team of doctors is ensured by satellite and mobile communication systems.

Our emergency ambulance is fee-based; nevertheless, our crews never fail to render free assistance on encounter of a traffic accident, etc. en route to the place of destination on a commercial call.
Commercial Emergency Ambulance Service in Moscow: How to Make a Call
To place an order for the ambulance visit in Moscow, call our telephone numbers provided on the website. During the call, you can inquire about the price of the required commercial medical service and ask other questions.
To call the ambulance, tell the dispatcher the following:
what happened and the medical history of diseases (if any);
the patient's details: his or her full name, age, and sex;
exact address..
The ambulance crew will set off to your call immediately and will assist in your situation.
Prices
| | |
| --- | --- |
| Service description | Prices |
| Emergency ambulance crew call: first visit from 6 a.m. to 10 p.m. | RUB 11,290 |
| Emergency ambulance crew call: first visit from 10 p.m. to 6 a.m., and on weekends or official holidays | RUB 12,940 |
| Emergency ambulance crew second visit from 6 a.m. to 10 p.m. | RUB 5,075 |
| Emergency ambulance crew second visit from 10 p.m. to 6 a.m., and on weekends or official holidays | RUB 6,330 |
The prices indicated on the website are not a public offer (RF Civil Code Article 435, RF Civil Code Article 437).
For more details on prices for services and for preliminary appointment, please contact the call center: +7 (495) 401-76-19 (round-the-clock).