Rehabilitation physiotherapy
Physiotherapy – drug-free treatment of patients during rehabilitation after illness, injury or surgery. The impact is directed to the restoration of respiratory function, musculoskeletal system, elimination of muscular pain, etc. Often used in combination with massage. The body can be influenced in different physiological ways:
electric shock;
ultrasound;
radiation;
water;
air;
dirt;
light.
In the clinic of academician Roitberg «Medicina» you can receive a full range of physiotherapy services using modern equipment.
Varieties of physiotherapy
At the appointment, the physiotherapist will select a program taking into account the individual characteristics of the patient. The clinic «Medicina» provides the following types of physiotherapy:
Microwave therapy;
UHF therapy;
galvanotherapy;
drug electrophoresis;
magnetotherapy;
Healing Fitness;
amplipulse therapy;
mesodiencephalic modulation;
interference therapy;
laser therapy;
darsonvalization, etc.
In conjunction with procedures for the treatment of pathologies of the musculoskeletal system are often used physiotherapy massage. This helps to speed up the rehabilitation process.
Indications and contraindications for the use of physiotherapy
Such a treatment method applicable for different diseases from SARS to chronic. Their general list includes:
bodily injury, including spinal cord injury;
organ dysfunction;
inflammatory diseases;
disorder of the gastrointestinal tract;
skin diseases;
connective tissue pathology;
metabolic dystrophic diseases;
disorders of the central nervous system and the autonomic system.
With a properly selected method, pain syndromes are stopped in patients, immunity and general well-being increase.
As with any medical procedure, it has physiotherapy and contraindications:
a body temperature above 38 ° C;
epilepsy;
cardiovascular, hepatic, respiratory, renal failure decompensation;
myelodysplastic, hemolytic, hemorrhagic syndromes;
acute conditions of infectious diseases;
alcoholic intoxication;
pregnancy;
malignant neoplasms.
At the reception, discuss with a specialist clinic your overall condition, and inform the features that can interfere with the procedure. The doctor will be able to choose the optimal and effective treatment.
Make an appointment with a physiotherapist at JSC "Medicina" Clinic (Professor Roytberg Clinic) in Moscow by phone +7 (495) 775-73-60.
Doctors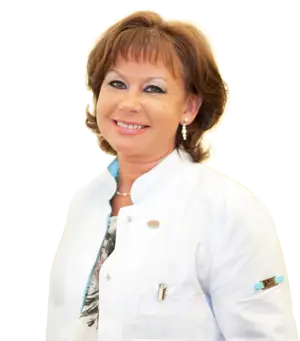 General practitioner
Experience 37 year
Board Certified General Practitioner (Highest Category), member of the Russian Scientific Medical Society of Internal Medicine
To make an appointment
Pricelist