Interview of the President of JSC "Medicine", academician of the Russian Academy of Sciences Grigory Roytberg to the newspaper "Kommersant"
"Health care is just a job" expert opinion
Interviewed by Vladislav Dorofeev
"Healthcare". Appendix No. 189 dated 16.10.2018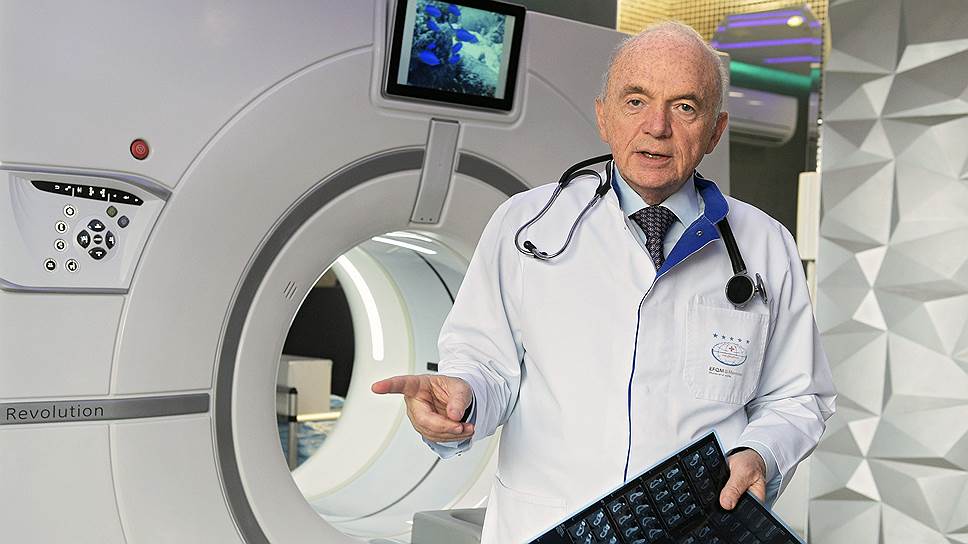 Photo: Gleb Shchelkunov / Kommersant

In one of the most expensive private clinics in the country, located in the center of Moscow, today you can undergo an examination and receive treatment using advanced technologies under a compulsory medical insurance policy (MHI). What diseases are treated there under compulsory medical insurance, is it profitable for a private medical institution and why is it more profitable for the state to work with commercial clinics than with state ones, said Academician of the Russian Academy of Sciences, President of OJSC "Medicine" Grigory Roitberg.
- Back in 2012, we talked about the plans of work on compulsory health insurance, and now I see these results: there is implementation. Now you have three departments working according to compulsory medical insurance rates: IVF, radiation therapy, PET / CT. There is a product that you were able to realize with the help of the state, but if there were no aspiration, there would not be this result.
- Aspiration matters, I agree with you, but our enthusiasm alone was not enough. I planned to start work on compulsory medical insurance back in 2012, but it turned out only in 2017. Because there is political will, and this is really visible, it must be said, plus the state. We see the most significant changes in oncology, especially in Moscow.
By the way, we were the first private clinic in Moscow to start operating in the compulsory medical insurance system in the 1990s.
- But how do you manage to provide compulsory medical insurance services at a loss to the clinic?
- It's not unprofitable with such a load. Yes, the profit rate is declining, but it is sufficient to work at such a turnover. In addition, when you still have 20-30% of the total flow of paid patients - and they always appear, the result is generally interesting. I'm afraid to fall into pathos, but if you can help many patients and at the same time improve economic performance, then this in itself is wonderful. Let me explain. We have a very high depreciation expense for equipment. Maintenance of the radiation therapy department costs many millions of rubles a year. Will pass through the department 100 people or 1 thousand - depreciation of equipment costs the same. And so, and so you have to pay. Therefore, consider that we have already saved these millions for service by earning them on compulsory medical insurance.
And all paid patients already go to the clinic. First, in general, if there are no details, it is cost-effective for us to treat at the rates of compulsory medical insurance. And, secondly, a patient who comes under the compulsory medical insurance and suddenly sees a clinic that he has never visited before, decides to see other technologies used in it, and turns to other departments.
Do I want the government to pay more? Sure. But it won't. To be fair, I will say that all over the world, clinics are barely leaving on government orders. I know very well how healthcare in Germany is arranged and how - in Israel, now we are actively getting to know Spain. Everywhere so. The state gives you the number of patients, almost any, but, as a rule, the state tariff gives no more than 8% profitability, and this is with perfectly organized logistics. But we have other opportunities. The main advantages of working in OMS are predictability and good workload.
- That is, due to the best equipment, the best technology, the best specialists, the best organization, you can increase the turnover and throughput and thus achieve profitability?
- Moreover, our prices are more than optimal. For example, according to the quota, a course of radiation therapy costs 252 thousand rubles (by the way, a paid course is about twice as expensive). In Israel, the same rate (translated into rubles) - 1.2 million rubles. The quality of treatment at our clinic is perhaps one of the best in the world. At the same time, doctors' salaries are more than decent. Our doctors today earn no worse than their colleagues, for example, in Spain.
By the way, we can even give radiation therapy to residents of other regions as part of the compulsory health insurance. The MHIF of Moscow pays us for regional patients within the framework of mutual settlements with the regions. In addition, patients who come to us do not want to leave. They are ready to receive paid help from us, because they get used to good things. Whatever is said around about poverty. It is a myth that we are very bad. We have it in different ways. As elsewhere. For example, in Belgium, the waiting list for CT is four months. In England, every third patient does not live to see the operation because of the queues, and people queue up at night to get a number to get a number. There is no doubt that the average level of assistance in our country lags behind the leading countries. But our best clinics provide services at the level of the world's leading clinics.
- What other areas and diagnoses are you preparing to treat under compulsory medical insurance?
- As part of the Moscow compulsory medical insurance, we are preparing to introduce some other diseases. In particular, minimally invasive bypass surgery (that is, without being connected to a heart-lung machine). I think this will happen next year. It is a gentle operation and is available for 60-70% of patients with cardiovascular diseases.
In 2019, we are preparing to significantly increase the range of CHI services. We are ready for any high-tech assistance under such a policy. The key word is "high tech". For example, the state allocates about 45.5 thousand rubles for cholecystectomy within the framework of the compulsory medical insurance. Nobody wants to work for that kind of money. And we cannot. If you do this procedure using high technologies, then the tariff will already be about 104 thousand rubles. We fit into this amount, and we still have something left. That is, we are ready to provide assistance with compulsory medical insurance tariffs and carry out high-tech treatment on a massive scale. We have everything for this: trained doctors, unique equipment! The state and the patient will only benefit from this. By the way, do you know why it is more profitable for the state to work with private clinics on compulsory medical insurance?
- With whom?
- Than with state medical institutions! Because the state paid us, a private clinic, the tariff - and that's it, his head doesn't hurt about anything. And the state paid the state hospital a tariff, and still needs to build a new building, pay property tax, buy new equipment, and so on. A private clinic covers all these needs by itself.
Moreover, there must be real competition between private and public medical institutions. There must be competition between everyone.
- Do you think there may be some correlation between public and private medicine in healthcare? For example, 50:50?
- With all that I was at the beginning of the birth of private medicine in the country, I am very afraid of abrupt steps. In medicine, in healthcare, everything must be very evolutionary. I think that ineffective private and public clinics will wither away. The strongest will win. The bad ones will die. What's wrong with that? What will be the ratio? I don't know, I think no one knows the optimal ratio.
By the way, this year we first encountered the fact that the state has more money than private clinics can handle. Our service plan is 15% growth annually. And with oncology - 20%. And while for us this is the ceiling. We have taken 880 radiation therapy quotas for a year. And the state was ready to give us more, but this year we cannot take that much. Next year - yes, now - no.
- Perhaps, only now, in a conversation with you, I realized with such obviousness that it does not matter - a private clinic or a state one ...
- I've been talking about this for 25 years. The form of ownership does not matter. Let life itself judge. Maybe public medicine will be more effective! Of course, there should be some amount of assistance within the framework of the compulsory medical insurance, which is not dependent on anything. State-protected treatment articles should remain. No one should die on the street from myocardial infarction or appendicitis because they have no money. It's not even discussed. But the compulsory medical insurance patient will not be placed in a single ward, and he will not have the right to choose a doctor.
For me, the main difference between private medicine and public medicine is freedom of decision-making and independence. I'm afraid to look boring, but healthcare is just a job. Therefore, today, if the chief physician of a state medical institution cannot earn money, let him change jobs. And there are no other options. Because there have never been such opportunities that exist in public medicine now. They receive the same money for all the services rendered, but at the same time they were given everything ready and will continue to be given everything ready.
Now doctors in public medicine are corrupted. But not with money, but with impunity. The ability not to be responsible for what they do. And here, in private medicine, everything is according to standards and protocols. For example, a pear served to a patient for an afternoon snack is washed at least twice. Trust me, I know. And I check sometimes. Once hot, then cold water. And the temperature of the solution supplied during the bypass operation should not be 36.8 or 37.2, but exactly 37 degrees Celsius.