CT scan of the brain
Computed tomography (CT) of the brain - highly informative stratified survey of the patient's head to get information about brain activity, the structure of all kinds of fabrics and tracking abnormalities at various stages. Such research allows specialists to obtain a volumetric model or a series of images of an organ with millimeter precision. This plain and painless method is indispensable for detecting neurological pathologies or dangerous conditions: tumors, injuries, circulatory disorders, hematomas, hemorrhages.
When diagnosing a patient for oncological diseases, the consequences of trauma, the presence of foreign bodies, use CT head without contrast. The cerebral angiography method is used to check the state of the blood vessels in the brain. The contrast on the basis of iodine is introduced intravenously. Distributed over all tissues, the component shows the permeability of the vessels; in the presence of neoplasms, it accumulates in them to a greater extent.
The doctor of the clinic is engaged in decoding the received images. Scan results can be obtained within an hour.
Pricelist
| | |
| --- | --- |
| Name | Price (RUB) |
| CT bolus contrast agent | 12190 |
| Computed tomography of the facial region of the skull | 11640 |
| Computed tomography of the facial region of the skull with intravenous bolus contrast | 22490 |
| Computed tomographic angiography of cerebral vessels | 21530 |
Indications and contraindications for CT head
The procedure is carried out without special training on modern equipment in the radiology department. The doctor will refer the patient for a cranial ct scan with contrast if:
bruises, concussions;
headaches of unclear etiology;
blood flow disorders;
epilepsy;
inflammatory processes;
developmental anomalies;
stroke;
hematomas or hemorrhages.
CT is also recommended when preparing for surgery or evaluating the effectiveness of treatment.
Be sure to tell your doctor about all the features of your body so that the diagnosics is only beneficial to your health, as there are several reasons for not performing CT:
inability to lie still;
serious condition of the patient;
pregnancy and lactation;
diabetes;
kidney disease;
allergy to the components of the contrast agent.
It is possible to carry out the procedure only when the patient becomes healthy or the positive dynamics of well-being of seriously ill patients is visible.
You can find out information of interest, including angiography cost and sign up for the visit, by calling +7 (495) 775-73-60. Call us, we will be happy to help you!
Doctors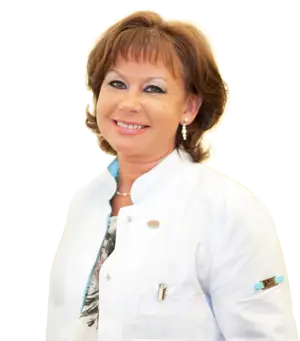 General practitioner
Experience 37 year
Board Certified General Practitioner (Highest Category), member of the Russian Scientific Medical Society of Internal Medicine
To make an appointment