Ultrasound of the prostate
Ultrasound (ultrasound) of the prostate is the main method of examining the pelvic organs in men. For the prevention and timely detection of diseases, it is necessary to undergo diagnostics as planned once a year. The method does not harm a man's health, is absolutely safe and, as prescribed by a doctor, can be used repeatedly at any age.
Medicina Roytberg's Clinic JSC is equipped with modern equipment, including the advanced HIFU Sonablate system. With the help of the prostate cancer ultrasound, we have the opportunity to carry out successful ablation by applying high-intensity focused ultrasound directly to the area of ​​the neoplasm.
Indications for ultrasound of the prostate
Mandatory ultrasound of the prostate is performed in the following cases:
pain when urinating;
retention of urine;
prostatitis;
suspected cancer;
increased content of prostate-specific antigen in the blood;
erectile dysfunction;
prevention of infertility.
At the first manifestations of non-standard symptoms or changes in the work of the genitourinary system, do not postpone the visit to the clinic. Sign up for a consultation with a specialist.
Types of ultrasound of the prostate
Today, two types of ultrasound examination of the prostate gland are used:
1. Transrectal (TRUS). Introduction of an ultrasound probe into the rectum. The method is informative and capable of detecting all changes in the prostate: inflammation, cysts, stones, cancerous tumors. It is often used to inject medicinal solutions into the prostate gland, or when taking a fragment of organ tissue for analysis. As a preparation, you must first cleanse the intestines.
The procedure is not carried out in the presence of anal fissures and exacerbated hemorrhoids, as well as in case of mental disorders of the patient.
2. Transabdominal. Superficial diagnostics through the patient's abdominal wall. The method is less informative, however, it is actively used for erectile dysfunction, the presence of neoplasms, seals in the tissues of the prostate gland and during digital examination. This way is performed in two stages: with a full bladder and an empty one. 1 hour before the procedure, you need to drink about 1 liter of clean water without gas.
There are no contraindications to transabdominal sonography. Exceptions are diseases when the patient cannot lie still or is in an inadequate state.
In rare cases, a specialist may recommend a diagnosis through the urethra or the skin between the scrotum and anus.
An appointment with a specialist is made by the contact phone number in Moscow: +7 (495) 775-73-60.
Doctors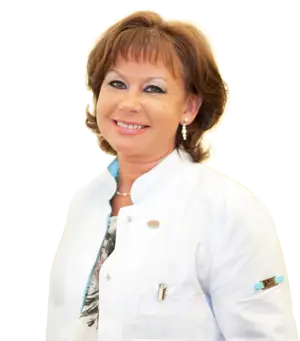 General practitioner
Experience 37 year
Board Certified General Practitioner (Highest Category), member of the Russian Scientific Medical Society of Internal Medicine
To make an appointment
Pricelist