Ultrasound of blood vessels
Ultrasound of vessels is safe and does not harm the human body. Moreover, such an examination allows you to examine any internal organ and diagnose the disease in the early stages of development.
When examining the vascular system, the degree of its damage, assessing the blood flow velocity, Doppler ultrasound diagnostics is performed. The therapy is used to examine the following organs:
the brain;
neck;
heart;
liver;
renal and femoral arteries;
pelvic organs;
upper and lower limbs.
Doppler ultrasound images that the doctor receives help detect and evaluate:
blockage of blood flow or clots;
vasoconstriction;
decrease or increase in blood flow to organs;
disorders of vascular development.
A standard vascular Doppler ultrasound session lasts 30-45 minutes. In some cases, the procedure may take a little longer.
Preparing for vascular ultrasound
The only recommendation when preparing for the procedure can be comfortable clothes that can be freely removed. Sometimes your doctor may ask you to remove it to gain access to the area of ​​interest.
An exception is the study of the veins of the abdominal cavity and pelvic organs:
in 2-3 days, exclude from the diet foods that cause gas formation: bread, dairy products, legumes, sweets, fresh vegetables, and fruits.

6-8 hours before the procedure, do not eat or drink anything other than water.
Before the procedure, carefully listen to all the instructions of the doctor. He will give the necessary instructions and recommendations.
Indications for vascular ultrasound examination
An ultrasound test may be recommended by the attending physician if the patient complains of the following symptoms or illnesses:
varicose veins;
recurrent numbness or swelling of the limbs;
atherosclerosis;
diabetes mellitus;
deep vein thrombosis;
headaches or frequent dizziness;
disorders of cerebral circulation.
Even a slight change in skin color is a prerequisite for the appointment of a vascular scan. The primary goal of the attending physician is to find out the cause of your condition and prescribe corrective therapy.
Contraindications to vascular ultrasound
There are no scientific contraindications to Doppler vascular examination. Restrictions can only arise in individual cases. For example, a patient is in a state where he cannot lie down or has serious mental disorders and behaves inappropriately.
Sign up for an ultrasound of blood vessels at the clinic of Academician Roytberg - call Moscow +7 (495) 775-73-60 or visit our medical center at Moscow, 2nd Tverskoy-Yamskoy Pereulok, 10, Mayakovskaya Metro (5 minutes on foot).
Doctors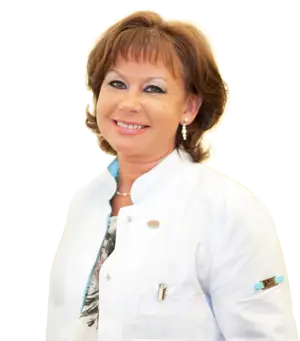 General practitioner
Experience 37 year
Board Certified General Practitioner (Highest Category), member of the Russian Scientific Medical Society of Internal Medicine
To make an appointment
Pricelist