Facial contouring
Facial contouring is an advanced non-surgical procedure in aesthetic cosmetology. It allows to adjust the age-related changes, get rid of the cosmetic defects of epidermis without surgical involvement.
3D facial contouring positively affects the face skin. After the composition is injected, the structure of epidermis changes effectively and the tone levels off. Also, the special threads are used for cosmetic face-lift, and they help to enhance a face oval.
Cost
| | | |
| --- | --- | --- |
| Code | Name | Price (RUB) |
| A11.01.013.001 | Cpntour plasty with Restyline Vital Light, 1 ml | 21 800 |
| A11.01.013.002 | Contour plasty with Restyline Vital, 1 ml | 29 100 |
| A11.01.013.003 | Contour plastic with JUVIDERM ULTRA-2 | 25 880 |
| A11.01.013.004 | Contour plastic with JUVIDERM ULTRA-3 | 31 710 |
| A11.01.013.005 | Face contour plasty with Juviderm Voluma, 1 ml | 33 090 |
| A11.01.013.006 | Contour thread lift with X-HA3 (Filorga) | 22 000 |
| A11.01.013.007 | Контурная пластика препаратом Juvederm Volitt | 31 800 |
| A11.01.013.008 | Контурная пластика препаратом Juvederm Volbella | 31 800 |
| A11.01.013.009 | Контурная пластика препаратом Juvederm Ultra Smile | 25 800 |
Features
Facial contouring allows to:
eliminate wrinkles;
adjust the form of nose and jaw;
increase the volume of lips;
decrease the size of the scar tissue;
shape the jaw contour.
The effect from the one-time injection of the composition can be compared to the result of the plastic surgery, and it lasts from 6 to 24 months, depending on the specificities of the organism.
The cosmetologist talks to the patient beforehand, finds out the information about the state of his health, as such procedure has a list of contraindications:
oncological neoplasms;
decrease or increase in blood clotting;
epilepsy;
allergy to the components of the medication;
elevated body temperature;
inflammation processes;
acute infections.
The cosmetologist additionally informs about the possible side effects after the facial contouring: soreness in the injection sites, swelling or flushed skin. If necessary, the specialists in our «JSC «Medicina» Clinic (Professor Roytberg Clinic) will create comfortable conditions and will provide psychological support.
Conducting of the cosmetic sculpting and recommendations
After the primary appointment, an individual dosage of the medication is selected for the most long-lasting effect. Then, the cosmetologist puts the marking on the skin, processes the face with antiseptic and conducts the injections with a thin needle.
The procedure lasts for no more than 1 hour. After the facial contouring it is recommended to abandon physical activities, visiting the bath and sauna, and also to avoid alcohol consumption for few days. It is advisable not to be affected by the UV radiation.
Sign up for the face-lift contouring to the «JSC «Medicina» Clinic (Professor Roytberg Clinic) by phone in Moscow: +7(495) 775-73-60.
Doctors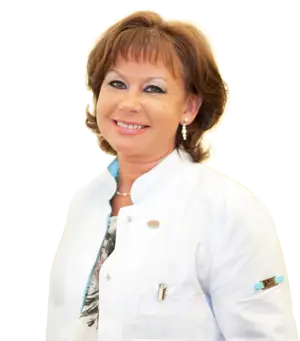 General practitioner
Experience 37 year
Board Certified General Practitioner (Highest Category), member of the Russian Scientific Medical Society of Internal Medicine
To make an appointment