Hemorrhoidectomy
Every year, more and more people suffer from haemorrhoids. However, despite the considerable discomfort that haemorrhoids cause, many people make a big mistake of delaying a visit to a proctologist. As a result, when these patients do seek qualified help, the disease progresses to the neglected stage, and the treatment process is more difficult.
A haemorrhoidectomy is one of the most effective treatments for haemorrhoids at any stage. This is especially true in advanced cases, stages 3 and 4 of the disease.
Procedure process
Hemorrhoid surgery is not an abdominal one, but it does require some preparation. In particular, any patient should have a routine check-up beforehand: general blood and urine tests, tests for HIV, syphilis and hepatitis, and a coagulogram. In some cases, an ultrasound of the abdominal organs is prescribed.
A few days before the removal of a haemorrhoidal node, it is advisable to avoid food that causes gas and constipation and to avoid alcoholic drinks and coffee. Instead, it is advisable to consume pure water and porridges.
An enema is administered the day before the removal of the haemorrhoids. If the patient is taking medicines that affect blood thinning, they must be stopped.
The specialists at JSC "Medicina" carry out this procedure under general anaesthesia. The patient lies on the couch with his/her back or stomach (the position depends on the surgeon's decision), placing his/her legs on a special footrest.
Next, the operated area is sprayed with an antiseptic agent, after which an anoscope is inserted into the anus, allowing the doctor to see the haemorrhoidal node. The surgeon then uses a ligator to grasp it and remove it from the anus, clamp the stem of the haemorrhoid node and cut it out. In the case of closed surgery, the wound is not left open, but is sutured.
The postoperative period is short, but the patient may experience sharp or aching pain in the anus and temporary urinary retention. In addition, removal of haemorrhoids is accompanied by a diet: after the operation, you should eat frequent, small meals (up to 200 grams per meal), excluding beans, cabbage, black bread, coffee and fizzy drinks for a while. Patients should drink about 5 glasses of plain water a day.
Indications for surgery
Hemorrhoidectomy is usually performed routinely by referral from a proctologist. Among the indications for its implementation there are the following:
haemorrhoids of the third stage that have been neglected and are characterised by enlarged nodes;
prolapse of hemorrhoidal veins;
anaemia due to frequent bleeding;
persistent pain in the anus, which increases during defecation;
ineffectiveness of traditional treatments;
nodal thrombosis.
Contraindications for surgery
Like any other surgical procedure, haemorrhoid removal is a serious procedure that can affect your health, so there are contraindications to it.
Hemorrhoidectomy is not recommended:
for pregnant women;
in the presence of acute illness or exacerbated chronic diseases of the colon;
for patients with malignant tumours;
in cases of decompensated internal organ changes;
for people with low blood clotting.
The final decision about whether to operate or to look for other ways to get rid of haemorrhoids, is made by the attending physician.
Which specialist performs hemorrhoidectomy?
Conservative treatment of haemorrhoids is the prerogative of a proctologist or coloproctologist. Our clinic has an operating coloproctologist who will guide you from your first appointment until you are fully recovered.
JSC "Medicina" (Academician Roytberg Clinic) employs specialists of exceptionally high level. They are members of international medical societies who regularly improve their qualifications by attending annual scientific conferences and major medical conventions. Thanks to many years of experience, they quickly cope with this illness, returning all patients to excellent health and good spirits.
Under no circumstances try to cope with the disease on your own. Doctors at our clinic will not remove haemorrhoids without a good reason. First of all, they will try to cope with it with non-surgical methods of treating the disease.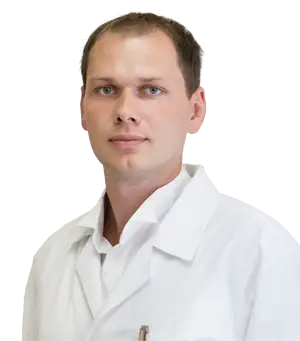 Family Doctor (OSM)
Experience 17 year
Doctor of the highest category. Member of the European Respiratory Society and the Russian Respiratory Society
To make an appointment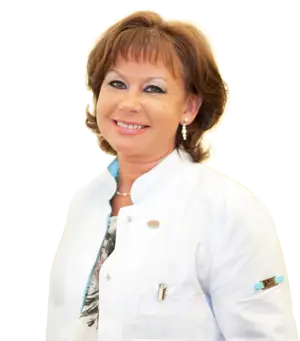 General practitioner
Experience 37 year
Board Certified General Practitioner (Highest Category), member of the Russian Scientific Medical Society of Internal Medicine
To make an appointment
Advantages of being treated at JSC "Medicina"
Our modern and reliable equipment at JSC "Medicina" (Academician Roytberg Clinic) makes it possible to make the most accurate diagnosis possible and to remove haemorrhoids quickly and effectively.
The principles of treatment of all diseases, including haemorrhoids, by our specialists are to treat each patient with the utmost care, to provide full information about his or her state of health and to assist in any way possible so that he or she leaves the clinic in good health.
Our prices
You can get detailed information about the prices for inpatient coloproctology services on our official website in the section "For Patients" (tab "Cost of Services"). In addition, our clinic managers are always happy to answer your questions. You can contact them and make an appointment by using the contacts listed on the home page.