Laparotomy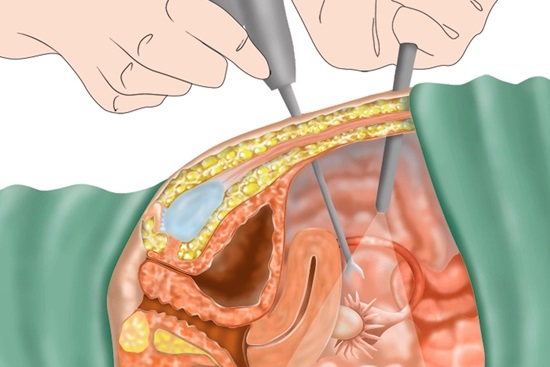 A laparotomy is a surgical procedure that involves cutting through the front wall of the patient's abdomen. During the surgery, surgeons gain access to the abdominal and pelvic organs. An abdominal surgery is performed either for diagnostic or therapeutic purposes.
Appointment of surgery for patients
The indication for a laparotomy depends on the type of pathology that has been identified by a gastroenterologist, gynecologist, urologist or other specialist. Surgeons most often perform such surgical interventions because of:
malignant formations;
polyps and cysts;
intestinal obstruction;
peritonitis;
gastrointestinal traumas.
Cesarean section or elimination of ectopic pregnancy refer to special cases of laparotomy interventions. The type of surgery determines the duration of the rehabilitation period and the likelihood of complications.
Limitations to the surgical procedure
Contraindications to laparotomy include:
chronic cardiovascular abnormalities in the acute stage;
renal and hepatic insufficiency;
blood clotting disorders;
hemorrhagic diathesis.
These pathologies are treated by endoscopic surgery or by conservative treatment of the detected disease.
Our doctors
Surgical interventions at the JSC "Medicine" (Academician Roytberg Clinic)
Doctors of the surgical department of the clinic perform all types of laparotomy surgeries. Among our advantages are:
high-accuracy diagnostic and therapeutic equipment;
a fully staffed and equipped surgical department;
an in-house ambulance service;
an inpatient unit with comfortable rooms.
The cost of laparotomy depends on the type of pathology diagnosed in the patient, the complexity of the upcoming intervention and the duration of the postoperative rehabilitation period.
Preparatory period before surgery
Preparing a patient for a laparotomy involves undergoing several diagnostic tests. They are:
general blood and urine tests;
blood tests for viral infections;
blood clotting index tests;
lung X-rays;
abdominal ultrasounds;
biochemical blood tests.
Additional tests are prescribed by the patient's doctor based on the clinical picture of the pathology. On the eve of the procedure, the patient will have to undergo a purgative enema. From eight to ten hours before the intervention, the patient stops eating. Before the operation, the patient is subjected to bladder catheterization. This completes the preparation for the laparotomy.
Postoperative rehabilitation and complications
A laparotomy is a complex surgical procedure - it can take a long time for the patient to recover from the surgery. For several days, the patient will feel pain in the area of the surgical wound. Pain syndrome is treated with analgesics. The surgeon removes the surgical sutures 7-10 days after the laparotomy is completed.
A special diet and rehabilitation procedures are then prescribed. In the postoperative period, patients are advised to reduce physical activity and avoid smoking or drinking alcohol.
The most common postoperative complications include:
peritonitis;
neoplasms in the form of adhesions;
internal bleeding.
The formation of fibrin bands can be prevented by the use of gels that prevent the adhesion of damaged tissue. The likelihood of peritonitis or postoperative bleeding depends on the careful adherence to medical protocols by the operating surgeon and the success of the laparotomy.