Liposuction on different parts of the body
Liposuction is a surgical removal of excess fat deposits. The main feature is that the operation is performed on one or more parts of the body. Most often, patients turn to a plastic surgeon to remove fat from several problem areas:
abdomen;
waist;
thighs;
buttocks;
back;
neck, etc.
Also in our clinic, cosmetic procedures are performed on the hands, face, or knees.
Liposuction surgery gives a visual effect - it allows you to improve and tighten the figure. However, this procedure is not a cure for obesity, that is, it will not in any way affect the primary cause of the disease.
Your desire alone is not a reason to remove excess body fat. First, the plastic surgeon conducts a full examination and, based on the anamnesis, gives his recommendations on whether or not the procedure can be performed.
Indications and contraindications for liposuction
Despite the attractiveness of creating a beautiful figure, the operation can be performed in the following cases:
in the presence of local fat deposits that cannot be removed by diet, sports, massage;
sufficient elasticity and firmness of the patient's skin;
excess weight not exceeding 30% of the norm.
Like any other medical procedure, liposuction has definition contraindications. For example, it is very risky to remove fat in patients with large excess weight or skin. Loose skin is also an undesirable factor in this surgery.
Also among the contraindications should be noted:
diabetes;
chronic and acquired diseases in the acute stage;
impaired liver or kidney function;
infections;
violation of blood clotting;
pregnancy.
During the initial examination with a doctor, be sure to tell about all diseases or allergies that categorically prohibit this surgical intervention.
Patient preparation and timing of liposuction
After taking the history, the doctor will examine and approve the operation. At this point, it is important to properly prepare for the surgery:
Start taking vitamins to maintain and strengthen immunity in two weeks, as well as preparations with iron content. This will help you recover faster. To reduce puffiness, it is necessary to reduce salt intake to 1.5 grams per day.

For one week before removing excess fat, stop sauna, bath, and physical activity. Also, you should not do epilation and massage of the areas on which the procedure is planned. Taking vitamin K normalizes the blood clotting process and prevents bleeding.

For three days it is recommended to give up hygiene products with fragrances, perfumes, lotions, creams, and antiperspirants.

Avoid drinking and eating eight hours before: liposuction is performed strictly on an empty stomach, as general anesthesia is required.

Leave your watch, jewelry, and valuables at home before going to the clinic. Wear loose clothing that can be easily removed when needed. Contact lenses and dentures should also not be worn before the procedure.
Follow all the recommendations of the plastic surgeon exactly. These recommendations will help to carry out the operation and subsequent rehabilitation perfectly.
Rehabilitation period after liposuction
Depending on the type of procedure, rehabilitation varies in duration:
Radiofrequency liposuction. After the session, the patient can immediately go home, but within one to two weeks, it is necessary to wear a compression garment or use an elastic bandage. You can return to an active lifestyle and physical activity two to three days after the procedure.
Classical liposuction. The first two to three weeks after, you should wear compression underwear around the clock, and the next 3-4 weeks - in the daytime. Special underwear will reduce the development of edema, improve lymph flow in tissues, create optimal conditions for skin contraction, and provide an immobilization effect, which favorably affects the course of recovery processes in tissues.
To speed up recovery, you can contact a physiotherapist and cosmetologist, which will significantly reduce the duration of the rehabilitation period and speed up the desired result.
CLINIC THE MEDICINA, JSC "Medicina" Clinic (Professor Roytberg Clinic) employs experienced surgeons who will ensure safe and effective procedures without negative consequences.
You can find out the cost of the operation and make an appointment with a plastic surgeon in our clinic by calling in Moscow +7 (495) 775-73-60.
Doctors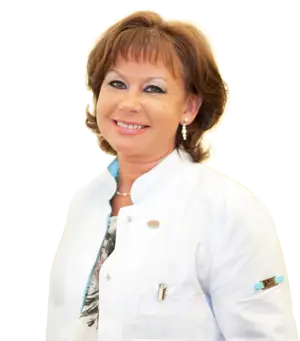 General practitioner
Experience 37 year
Board Certified General Practitioner (Highest Category), member of the Russian Scientific Medical Society of Internal Medicine
To make an appointment
Pricelist