Mesotherapy for face
Mesotherapy for the face is a professional facial treatment procedure aimed at moisturizing and rejuvenating the skin using vitamin injections into the middle layer of the skin (mesoderm). This slows down wilting and increases collagen and elastin production. The treatment smoothes acne scars and pigmentation.
Features of mesotherapy
After the introduction of meso-injections, the skin looks plump, hydrated, and elastic. However, to achieve maximum efficiency, it is necessary to undergo a course of 6-12 procedures for 7-14 days.
After therapy, you may notice slight swelling - this is a normal reaction to needle punctures. The skin will calm down in 1-2 days. It may take longer for the eye area to heal.
Indications and contraindications for meso facial
There is no age limit for mesotherapy. The procedure can be recommended to the patient in the following cases:
Treatment or prevention of skin aging;
Reduction of acne scars and pigmentation;
Rosacea (spider veins);
Oily, porous skin;
Treatment of non-exacerbated acne;
Rehabilitation after plastic surgery, peeling or laser skin resurfacing;
Dehydration of the epidermis.
There are also cases in which the course of vitamin injections cannot be performed:
Pregnancy and lactation;
Cholelithiasis;
Renal failure, nephropathy;
Chronic vascular pathologies;
Skin and acute febrile diseases;
Hemophilia.
Consult your doctor before using mesoglow facial rejuvenation.
Show skincare - sign up for mesotherapy for face at Medicina Roytberg's Clinic JSC by phone in Moscow: +7 (495) 775-73-60.
Doctors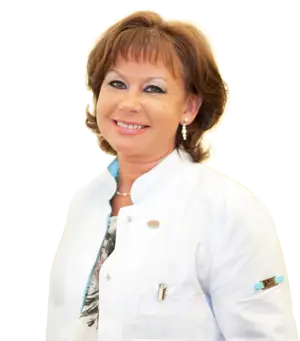 General practitioner
Experience 37 year
Board Certified General Practitioner (Highest Category), member of the Russian Scientific Medical Society of Internal Medicine
To make an appointment
Pricelist