MRI of the cerebral vessels
Magnetic resonance imaging of cerebral vessels is a diagnostic method that allows you to build a picture of the structure of the vascular-venous network of the brain. This procedure is often combined with the examination of the vessels of the neck. MRI allows you to visualize both vessels and nearby tissues, which significantly expands the doctor's capabilities when prescribing treatment.
The power of the MRI apparatus in the Medicina clinic is 3 Tesla. The research is conducted around the clock.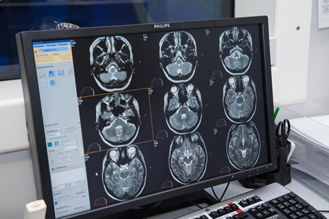 Capabilities of MRI of cerebral vessels
During the MRI of the vessels of the brain, it is possible to obtain information about the state of the arteries, veins, their patency and the structure of the surrounding tissues. A specialist performing diagnostics has the ability to obtain an image of varying complexity and in any projection. Due to the high information content of MRI, the management of patients with vascular disorders is greatly facilitated.
Magnetic resonance imaging reveals atherosclerotic changes, congenital and acquired anomalies in the development and structure of blood vessels. Modern equipment makes it possible to find out the degree of blood flow deterioration, its functional characteristics and direction, areas of both slow blood flow and accelerated blood flow, arterial spasms.
MRI allows you to diagnose the circle of Willis - the most important arterial circle of the brain, which provides a full blood supply in the event of a violation of any vessel that feeds the brain.
Indications for MRI of cerebral vessels:
compression of brain tissue;
steal syndrome;
vascular malformations;
atherosclerotic changes;
sinus thrombosis;
vasculitis of the arteries of the brain;
diagnostics of vascular aneurysms;
headaches associated with vascular disorders;
vascular tumors;
stratification of the walls of blood vessels;
identification of stroke and its complications;
trauma, damage to the skull.
Contraindications for MRI of cerebral vessels:
pregnancy;
the period of breastfeeding the newborn;
allergic reactions to contrast agents;
inability to lie motionless during the study;
claustrophobia (requires MRI during drug-induced sleep or open circuit);
renal failure.
MRI is considered a safe procedure. The question of the appropriateness of its use is decided by the doctor on an individual basis. Non-contrast magnetic resonance imaging is performed for pregnant women without signs of placental abruption and the threat of miscarriage. In the early stages of pregnancy, when the ovum is being transplanted and the embryonic cells are actively multiplying, it is worth refraining from any diagnostic studies.