MRI of the cervical spine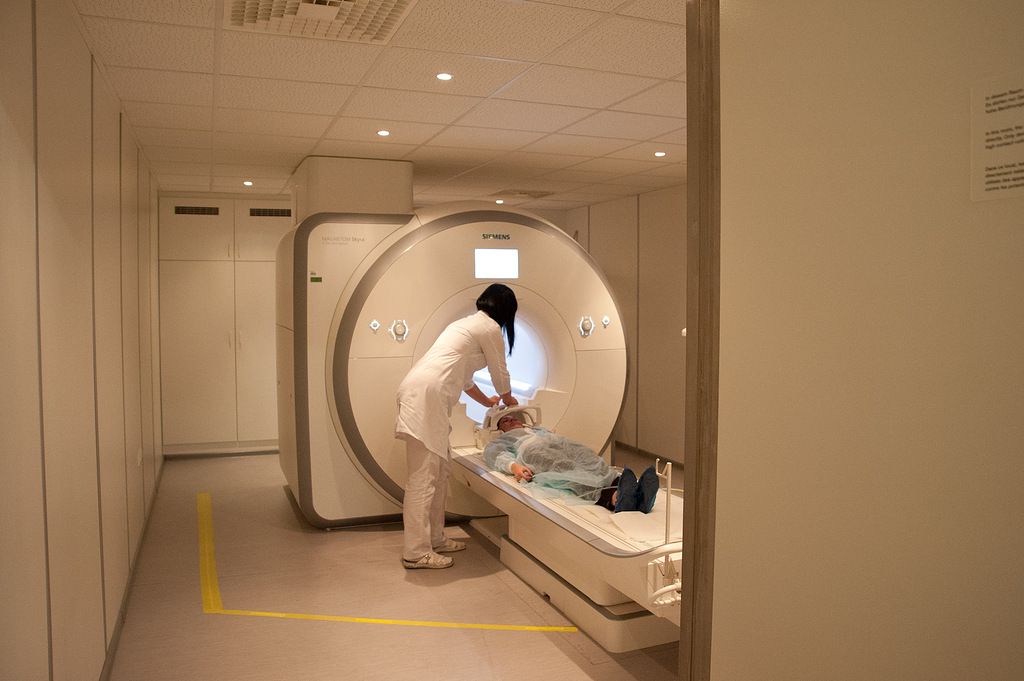 Magnetic resonance imaging (MRI) of the cervical spine is a non-invasive form of diagnostics of the condition of the vertebrae of the neck and adjacent soft tissues of this area.
With the help of MRI of the cervical spine can be identified in the early stages of such diseases as:
disc herniation;
cervical stenosis;
various neoplasms;
circulatory disorders;
rheumatoid arthritis;
congenital and acquired pathologies;
cervical spondylotic myelopathy;
disco-osteophytic complex (protrusion), etc.
If necessary, improved visualization images vertebrae scanning is performed with contrast. Before diagnosis, the drug is injected into a vein and distributed throughout the body, accumulating in the area of inflammation. After the study, the contrast is excreted from the body without any negative consequences.
Neck MRI cost
| | |
| --- | --- |
| Name | Price (RUB) |
| Computed tomography of the cervical spine | 11640 |
| CT of the cervical spine with intravenous contrast | 22490 |
| Computed tomography of the upper respiratory tract and neck | 11640 |
| Spiral computed tomography of the neck | 11120 |
| Spiral CTof the neck with contrast | 23090 |
| Magnetic resonance imaging of the spinal cord of the cervical spine with contrast (one area) | 34990 |
| Magnetic resonance imaging of the spinal cord of the cervical spine | 16890 |
| MRI contrast media | 12190 |
| MRI - postcontrast | 7590 |
Indications and contraindications
The cervical spine scan is recommended in the following cases:
headaches, numbness, tingling in the fingers;
crunch, lumbago in the neck;
osteochondrosis;
tinnitus;
narrowing of the lumen of the spinal canal;
suspected tumors in the study area;
injury.
Also, diagnosis is carried out when preparing the patient for surgery or monitoring the dynamics of recovery after it.
Contraindications to MRI of the neck are different, and some of them are relative (examination is performed in urgent need on the recommendation of a doctor). The following cases may interfere with the diagnosis:
pregnancy and lactation;
the presence in the patient's body metal objects;
the presence of pacemakers, artificial heart valves, implants and prostheses, neurostimulators;
claustrophobia, panic attacks and inability to keep still;
weight over 130 kg.
Before the appointment procedure, the doctor talks to a patient, knows the features to avoid possible negative effects or to choose a more gentle examination.
The procedure does not require special preparation. Before the session, it is necessary to remove all metal objects from the body.
In our medical center, patient examinations are carried out on a 3 Tesla apparatus, which allows us to obtain clear images of an area less than 1 mm thick and to assess the degree of the pathological process. Take care of your health. Sign up for an MRI of the cervical spine at the clinic of «Medicina» JSC by phone +7 (495) 775-73-60.
Doctors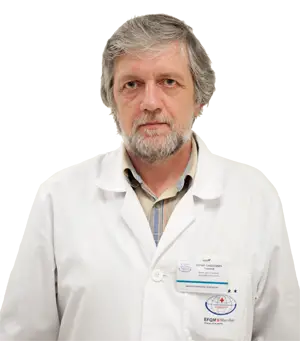 MR imaging (MRI), SPECT
Experience 44 year
Board certified physician (Highest Category in Radiology), member of the European Society of Radiology
To make an appointment