Ultrasound examination of the pelvic organs
Ultrasound examination of the pelvic organs — highly informative, safe, painless 3d usg method, which is used to scan the female reproductive system. The examination is prescribed to confirm the diagnosis made in the gynecology department, detect pathologies and monitor the development of the fetus during pregnancy. Also, on an ultrasound scan, the doctor can determine:
the structure, size and location of the uterus;
the integrity of the endometrium;
position and structure of the ovaries;
spread of infection and neoplasms;
the size of the follicles and the corpus luteum;
functioning of the bladder.
The method does not have a negative effect on the body, therefore, unlike X-ray, it can be performed repeatedly to track the dynamics of diseases. The survey is recommended to take place once a year.
Research features
There are two types of pelvic ultrasound: transvaginal (intravaginal) with a vaginal probe and abdominal (through the abdomen). In early pregnancy, both methods are often used. In later periods, only abdominal diagnostics are performed due to the risk of causing premature birth.
Also traditional gynecologists scan use the Doppler method to assess placental vessels, blood supply to the uterus, ovaries and the developing fetus. By sending impulse signals, the doctor sees how blood flows from mother to baby in the womb. In addition, Doppler ultrasound can detect blood clots, the causes of stroke and varicose veins. After the examination, the results are printed out for further study.
Indications and contraindications for ultrasound of the pelvic organs
The gyn will direct the patient to an echography when:
pregnancy;
unexplained pain in the lower abdomen;
violation of the menstrual cycle;
suspected inflammation, hidden infections or infertility;
the need to monitor the work of the ovaries;
using hormonal contraceptives;
the presence of an intrauterine device;
pain when urinating and dysfunction of the bladder.
There are no contraindications to this procedure.
Preparing for diagnosis
Transabdominal ultrasound procedure must be done with a full bladder. It is recommended to drink more than 1 liter of non-carbonated liquid per hour. After that, refrain from urinating until the completion of the examination. When scanning with a transvaginal sensor, there is no special preparation.
If you have a tendency to gas formation, a few days before the visit, you must follow a diet, excluding all foods that cause bloating and gas. You can clarify their list with your doctor.
Take care of your health. Sign up for an ultrasound examination of the pelvic organs at JSC "Medicina" Clinic (Professor Roytberg Clinic) by phone in Moscow: +7 (495) 775-73-60.
Doctors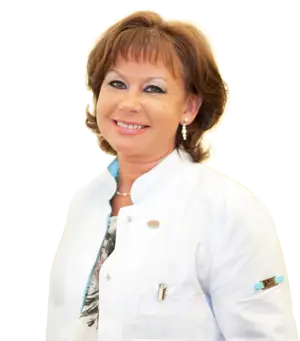 General practitioner
Experience 37 year
Board Certified General Practitioner (Highest Category), member of the Russian Scientific Medical Society of Internal Medicine
To make an appointment
Pricelist