Flu Vaccine
The influenza virus in the modern world is found everywhere and very often. The disease spreads instantly by airborne droplets and is manifested by the following symptoms: fever, cough, and runny nose. Influenza, on the one hand, is quickly treatable, but at the same time, it can bring serious complications to the respiratory, cardiovascular systems, and even muscle tissues.
To protect oneself from the disease, as well as from its disastrous consequences, the clinic of Academician Roytberg «Medicina» offers to be vaccinated. New generation influenza vaccines are made using various technologies and we have each of them:
1. Intranasal - live vaccine. It is introduced into the body through the nasal cavity without using a syringe and needle.
2. Inactivated - microbes specially grown and killed in laboratory conditions. They are not able to independently cause resistance to immunity, therefore they need adjuvants (non-toxic enhancers) and a long course of injections.
Each type of vaccine is reliable and easily tolerated by patients.
Indications and contraindications for the use of influenza vaccine
Influenza is easy for anyone to catch, but there are special groups of people who are more prone to developing the disease and serious complications. Vaccination is recommended as a priority:
adults:
babies;
preschool children;
pregnant women;
people with weakened immunity.
You can't get the flu shot! In this case, there are only a few contraindications for injections:
Allergy to the protein component of the vaccine. Most vaccines contain chicken egg protein, as they were grown in chicken embryos.
Poor reaction to previous vaccinations.
Exacerbation of chronic infectious diseases accompanied by fever.
If you have noted at least one of the listed items, you should immediately inform your doctor about it. The specialist will offer a compromise option or tell you how to protect the body in another way.
Recommendations for vaccination
It is advisable to undergo a medical examination before vaccination. Discuss with your doctor if you have any allergic reactions to drugs, fever, or inflammation. If there are no contraindications to vaccination, we can find the most optimal influenza vaccine for you. This will avoid possible post-vaccination complications.
You can find out the details of the procedure, the cost, and make an appointment for an injection of the influenza vaccine by calling in Moscow: +7 (495) 775-73-60.
Doctors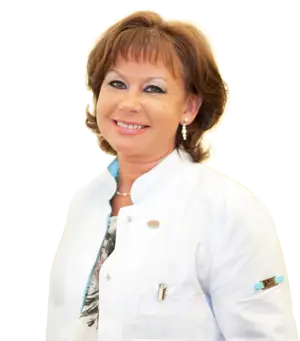 General practitioner
Experience 37 year
Board Certified General Practitioner (Highest Category), member of the Russian Scientific Medical Society of Internal Medicine
To make an appointment
Pricelist