Vaccination at the Medical Center «Medicina»
Vaccination is a simple and effective way to protect against many diseases before contact with their pathogens. The introduction of a vaccine - weakened or killed forms of microbes - activates the body's natural defenses and increases immunity.
Kids are especially susceptible to microbes and bacteria, so it is important to start vaccination at an early age, when the immune system is just forming. This will reduce the risk of many infections and parasitic diseases.
In the medical center «Medicina» you can vaccinate against the following diseases:
flu;
tick-borne encephalitis;
hepatitis (A and B);
Pneumococcus;
rubella;
measles;
parotitis;
diphtheria;
tetanus;
poliomyelitis;
meningitis;
typhoid fever.
For your convenience, a specialist may vaccinate at the clinic, at home, or even at your work. For companies, we have a great offer - seasonal immunization of employees with the arrival of a doctor at the office.
Possible side effects after vaccination
Any injection can cause mild side effects, depending on the individual. However, a negative response to vaccination is extremely rare - one case in millions of doses.
There are two types of reactions:
Local (at the injection site). These include redness, induration, soreness, swelling, rash, or allergies to the constituent substances in the preparation. Lymph nodes may also enlarge in the area of ​​the injection.
General (the response of the whole organism to the vaccine). The temperature rises, weakness appears, a rash all over the body, dizziness, impaired appetite, short-term loss of consciousness. Most symptoms are mild and do not require constant monitoring in a medical facility.
To minimize negative consequences and reactions, a thorough examination by a specialist is necessary before vaccination. This condition is compulsorily observed in our medical center, including during organized visits for immunization purposes.
Why is it worth contacting JSC "Medicina" Clinic (Professor Roytberg Clinic)?
We always offer our patients high-class service:
complete examination following standards of modern medicine - we carry out all the necessary diagnostic measures;
escorting patients to the needed office and assistance in orientation in the clinic;
no queues - the visit is made strictly by appointment;
written recommendations after admission;
personal access to medical history;
information on drugs used for vaccination;
receiving compensation when a justified claim or non-fulfillment of the above guarantees by the clinic.
Take care of your health and your loved ones, make an appointment with a physician in the center «Medicina» by phone in Moscow: +7 (495) 775-73-60. After talking with a doctor and examination, if there are no contraindications, you will be vaccinated.
Doctors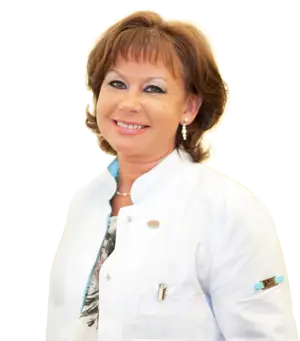 General practitioner
Experience 37 year
Board Certified General Practitioner (Highest Category), member of the Russian Scientific Medical Society of Internal Medicine
To make an appointment
Pricelist